A college's "true" ranking is how a college ranks, on average, in public opinion. Because most people think that most other people use the U.S. News and World Report ranking, this ranking has a large impact on the public's opinion of a college's rank.
But what are people really trying to get at when they rank a college? And how might a college's ranking change in the future as a result?
What determines a college's ranking?
A college's worth compared to that of other institutions determines its ranking in public opinion. For most people, a college's worth is determined by the monetary value of a degree in a given field from that college. People typically want to go to the best college they can in order to help them reach as high in their field as they can so that they can earn more, have more prestige, be more effective, and/or have the most impact, etc. In short, people use college as a means to help them live the best life that they can — and to position themselves to pass the best life that they can to their children as well.
How does a degree from a given college actually provide that value to a person?
Brand name
Social networks
Education
A better brand helps in two ways:
A better brand indicates that a school was more selective, which means that (at least theoretically) a college already provides a high-quality applicant pool to employers. There is also the perception that a college with a better brand likely delivers a superior education. In short, the brand helps open doors.
But, the brand also helps attract the best and brightest to apply and attend. When you can attract the best and brightest, professors start to teach to a higher median skill level (which raises the quality of education), students compete against a more ambitious and talented cohort (which prompts them to try harder and learn more), and the college's social network becomes more valuable because it is comprised of more ambitious and talented members. The top college brand, therefore, is a self-reinforcing prophecy: it promises to provide the best value, so the best attend, and they then receive the best value largely because the peer group itself was the best.
Can I just get to the rankings… ? One more step to ensure that we're on the same page in our descriptions of the future rankings. 🙂
We care about a college's FUTURE ranking
People don't care too much about the ranking of the college that they are currently attending. They care that the college will continue to be highly ranked in the future as well.
There are two potential ways to estimate a college's future value/ranking:
Look at the past and assume the future will be similar. If you look at the highest-ranked colleges, most of them have been near the highest in ranking for a long time, so it seems reasonable that the trend would continue. It likely will continue to a large degree.
Look at an institution's current and likely future behavior and see how you think that will affect its future rankings.
The latter (estimating how an institution's actions will affect its future rankings) brings us to… our future rankings.
Future Rankings
Colleges that will likely further rise in ranking or at least maintain their top rankings by 2035:
MIT
Georgetown
University of Georgia
Georgia Tech
Purdue University
Why these? Because these are top schools that have gone back to requiring test scores.
Now, why is that important?
If most top colleges don't go back to requiring test scores but some do, then those not requiring test scores will eventually decline in ranking (almost certainly in public perception — which is what truly matters — but eventually in U.S. News and World Report's rankings as well).
To understand why this is likely to be the case, we have to understand two present and growing phenomena:
Grade Inflation
Both high school and college students' grades have dramatically increased over the years. Look at Harvard's average GPA: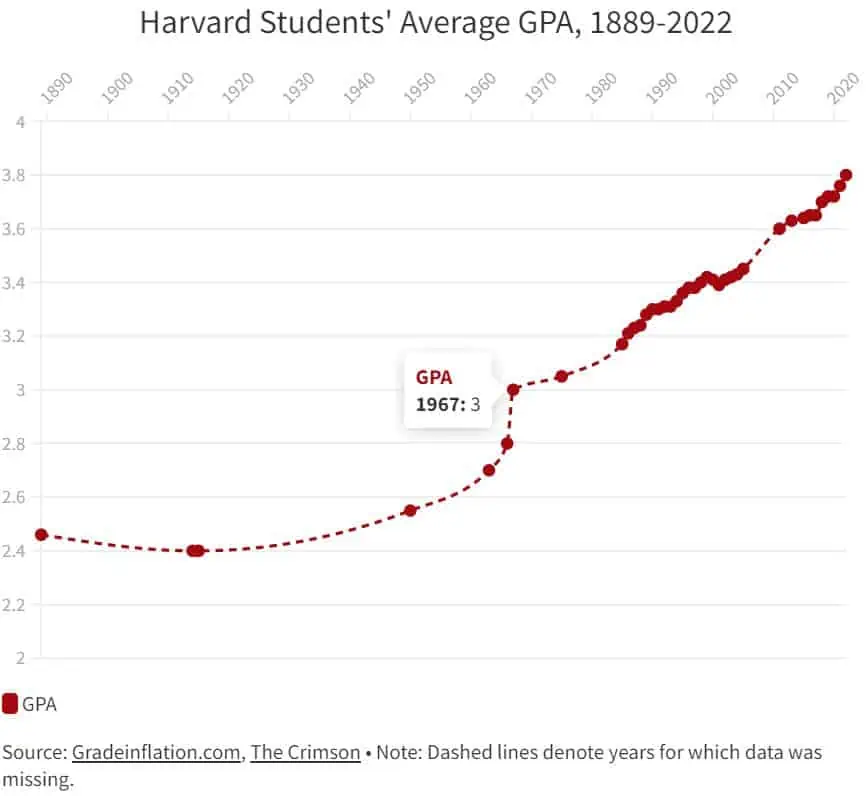 How can employers differentiate between students graduating from Harvard who are in the same major? They basically can't. When the average grade is a 3.8, then basically everyone has the same grades. But is everyone equally equipped, hard-working, knowledgeable, and skilled? No, definitely not.
But grade inflation is not limited to Harvard; it is a national trend.
Testing from Employers
So what can employers do to get a better understanding of which applicants from the same school with basically the same grades are the best for their companies? Cover letters and interviews, yes, but anyone who is in hiring knows that many people can have a stellar cover letter and be great at interviewing but not have the knowledge and skills to excel at the actual job.
When companies lack information to make good decisions (such as grades becoming less and less meaningful), they will seek out alternative means of gathering that information, which is why more and more companies are conducting their own testing for applicants to determine whom they should hire and how much they should offer as a starting salary.
That's a very bad bargain for students, especially the most hard-working and talented ones, who just spent sometimes hundreds of thousands of dollars on a college degree that is losing value because of grade inflation that causes grade compression (which happens when most students have about the same grades at the top of the grading scale). Recent graduates, especially in tech and finance fields, are increasingly assessed on employers' standardized tests that are dramatically less standardized than the SAT and ACT. The latter two tests are under incredible scrutiny to be fair, valid, and consistent. That is not the case with employer-based tests, and the results of these tests are hidden from any outside scrutiny.
Job applicant testing is already on the rise, but it's possible it will accelerate both because further grade inflation/compression decreases the previously assumed value of a degree and because test-optional admissions erodes confidence in the quality of applicants from a given college.
Why Test-Requiring Colleges Will Likely Rise in Ranking
Employers will likely increasingly gravitate to graduates of colleges that have already put their graduates through standardized testing because there is more certainty surrounding these applicants.
Consider two graduates of a currently top-ranked test-optional university:
Applicant #1: A-average (and scored a 25 on the ACT but didn't submit it to top colleges)
Applicant #2: A-average (and scored a 35 on the ACT to gain admittance to top colleges)
To employers, the applicants look largely identical: A-average graduates. The employers don't know the ACT scores (though, some rare employers actually do ask for an applicant's SAT and ACT scores — probably to hedge against this exact situation).
Now, you might think, "Well, if both applicants have A-averages, then they are equally good students and applicants." But we know that because of grade inflation and grade compression, that is not necessarily the case at all. Also, if you actually look at the content of the ACT, you'll readily see that the student with the 35 has more academic knowledge and skills (unless the student who scored a 25 on the ACT was able to catch up in college to the student with a 35 on the ACT in both knowledge and skills in grammar, rhetorical skills, mathematical knowledge and reasoning, reading comprehension, scientific reasoning, etc — but it's highly unlikely that as both students are progressing that the student with a 25 would be able to close that gap).
What do all people do in the face of uncertainty? They gravitate toward certainty. Which is what employers will very likely do with respect to colleges.
Consider, instead, two graduates from a top-ranked test-requiring university (such as from MIT, which has a middle 50% composite ACT range from 34-36):
Applicant #1: A-average (and scored a 34 on the ACT)
Applicant #2: A-average (and scored a 35 on the ACT)
Employers won't know which applicant scored a 34 and which scored a 35, but there is not much difference between the two and they can be very certain that both applicants scored around a 34 or above because the student is graduating from a top college that is test-requiring. That gives employers significantly more certainty about the quality of applicants from a test-requiring university.
All else being equal, if employers can select graduates from either Georgetown or Carnegie Mellon (both of which are currently tied for 22nd in U.S. News and World Reports ranking), eventually they will give preference to Georgetown's graduates, because Georgetown requires test scores and Carnegie Mellon does not. Comparatively, there is more certainty surrounding graduates from Georgetown.
The same goes for public perception. People will simply have less certainty surrounding the knowledge and skills of graduates from test-optional universities, which will drive the public perception that test-requiring colleges have a higher comparative value. In the back of people's minds about graduates of test-optional universities will be, "Yes, but I wonder if this graduate would have been admitted if tests were required." Versus about graduates of test-requiring universities: "This person gained admittance to a college that required them to score very highly on a standardized assessment of their knowledge and skills."
That very subtle and yet powerful distinction between graduates of test-optional and test-requiring colleges will likely grow in the public's perception.
Of note, however, is that some test-optional colleges will be able to provide almost as much certainty about their graduates as those test-requiring colleges. How will they do this? By being "test-optional" — those quotation marks should be bolded, italicized, and underlined. For example, Notre Dame is "test-optional." But not submitting tests is not an equal option: virtually every student who attends Notre Dame submitted test scores. So, even though Georgetown requires test scores and Notre Dame does not, they are functionally the same. Notre Dame basically does require test scores but likes to retain the flexibility of being able to admit a student here or there without them.
How This Might Already Be Shaping Behavior
All other things being equal (that you don't prefer Washington D.C over Pittsburgh, etc), if you have acceptance letters from both Georgetown and Carnegie Mellon, which would you choose?
If you think Carnegie Mellon will stay test-optional, then it's probably a pretty easy decision: Georgetown.
The two schools are currently tied in ranking, but, if Georgetown requires test scores and Carnegie Mellon continues not to do so, it's unlikely that in over a decade they will stay tied in ranking (especially in the true ranking of public perception).
And, because no one cares about a college's current ranking but about its future ranking, discerning students will already pick Georgetown. Top-performing students also know that the best and brightest will be drawn to colleges that have helped vet that the other students in attendance are also the best and brightest.
And the fact that the best and brightest will prefer Georgetown will help the school's level of education and the quality of its graduates to rise. And it's the quality of students themselves — not necessarily the education provided — that primarily drives the quality of the institution and thereby its rankings and value.
What Will Colleges Do?
It remains to be seen how many colleges will go back to requiring test scores.
On the one hand, they don't want to require test scores because:
They get more applications (more application fees, more applicants to deny, and a lower admit rate — which drives the perception that they are highly selective).
They have ultimate flexibility over who they want to admit (so they can admit recruited athletes or children of donors who might otherwise have been rejected based on test scores).
On the other hand, they do really like test scores because:
My guess? More and more colleges, especially top colleges, will go back to requiring test scores. When colleges go test-optional, yes, they initially gain more applicants, flexibility, etc. But, if they stay test-optional and admit a large portion of students who do not submit test scores while their peer institutions are requiring test scores, then the additional applicants, flexibility, etc that they initially gain from being test-optional won't matter: the best and brightest will give preference to those colleges requiring test scores because a student's attendance at test-requiring schools will signal to others that they are indeed the best and brightest because they were able to gain admission into a test-requiring college. The more admission into a test-required college becomes a signal of achievement, the more the preference among the best and brightest for attending a test-requiring college will intensify.
Any colleges that remain test-optional (besides those, like Notre Dame, that already barely admit any students without test scores) will fall behind their peers as the best and brightest abandon them for test-requiring colleges that give admitted students the ability to signal to the world with certainty that they are top performing students based on standardized measures.
Top schools, then, are likely to slowly decline in their ranking and worth in public perception if they do not go back to requiring test scores. Thus, most top schools are likely to eventually go back to requiring test scores (or simply become more obviously fake test-optional colleges), so attending most currently top-ranked colleges is still probably a safe bet because they will likely return to requiring test scores to protect and preserve their top college rankings.
In contrast, the future of test-blind colleges, especially the currently top-ranked ones, is likely bleak. For example, the University of California, Berkeley's Board of Regents decided to become test-blind after rejecting the unanimous faculty vote to keep the tests in admissions and the faculty's 200+ page report that found that standardized tests help UC schools to select the best applicants — and it limited out-of-state students, which will make the universities more closed off from talent from across the country. Over time (as the CUNY schools did over decades after they loosened their admissions standards), even top test-blind colleges will likely fall in prestige in public perception, so their future rankings (which give a college its value) are doubtful.
Already some schools (Georgetown, the University of Georgia, MIT, Georgia Tech, and Purdue University) are signaling that they want to be guarantors of undergraduate academic excellence. If most colleges do not return to requiring test scores, then these colleges that have returned to requiring test scores will be the best bets for applicants because students will have an easier time gaining admittance to them now before their rankings continue to rise in the future.
If many colleges do not go back to requiring test scores, then one would expect that a divide between test-optional and test-requiring colleges will develop. The graduates from test-requiring colleges will have the heightened credibility that will come from being accepted to and graduating from a test-requiring college. The top colleges leading a return to requiring admissions tests have brilliantly positioned themselves to further attract the best and brightest who want the assurance that the value of their current top college degree will be maintained in the future.
What Should You Do?
Students without good test scores are, completely understandably, flocking to the highest-ranked test-optional colleges that they can gain admittance to.
What do you think the effect of that is? Those colleges are admitting at least some students (and potentially many students) who never would have been admitted before. Is that more likely going to raise the average quality of students at the school? Or lower it?
It's hard to make the case that this would raise the average quality of students at the school — it will then most likely lower it. Which means that the prestige of that school will eventually decline, professors will have to teach to a lower median knowledge and skill level (which is already happening at many test-optional colleges), and the school's ranking is likely to eventually decline.
So, if you have a good test score and you have the decision to attend a college that is test-requiring (or that is test-optional but barely admits any students without test scores) versus a college that is largely test-optional or is test-blind, then the safer bet for ensuring the future value of your degree is to go to the best test-requiring college that you can. It certainly won't hurt you to do so, and it just might help both preserve the value of your degree and even cause the value of that degree to increase over time if other colleges do not go back to requiring test scores.
If the best and brightest gravitate toward particular colleges, then those colleges are good bets for a brand name, social network, and education that will retain their value and even rise in value over time.