At most colleges, admissions essays don't matter too much. But, the more selective a school is, the better their applicant pool is, and the more critical it becomes to stand out. Here are some tips for doing so with your college application essays.
What are admissions officers looking for in an essay?
Selective and especially highly selective colleges get so many qualified applicants that things on the margin (besides just fantastic grades and test scores) are more likely to be the deciding factors and give students a "hook" or an edge in the application process.
So, at the selective and highly selective schools, what are admissions officers looking for?
The first question admissions officers need to answer about an applicant is: Can this student do well academically at this institution? To answer that, admissions officers primarily look at grades, rigor of courses, and test scores. Essays at this point are not a plus factor (but could be a detriment if the student reveals personal details that would make them a risk to a college, such as talking about risky behaviors in their admissions essays). So, all essays should first just not detract from an application. Except in rare circumstances, the purpose of the essays is not to answer "can this student do well academically here?" If a student's admissions essays answer that question, that usually means the essays worked against a student.
If a student makes it through that first question, then the second question is: Is this student a plus factor for our college and a good fit here? That's where essays really come into play and why it's important for students to demonstrate their personal characteristics that show they are good people and will positively contribute to the college community.
Note about admissions essay content: If you're talking about a struggle in life (which can often be a good topic to talk about), then you have to show going from negative to positive. You have to show what you've learned from adversity and show how you ultimately overcame it (either by learning to live with it, learning lessons from it, etc). If you don't, then don't write about that topic. The best is if you can even show that you are grateful for adversity because of how it made you a better person, how you are now better equipped for the future, etc.
Why do colleges care about fit?
College care about fit because if students aren't a good fit, they will be unhappy. If they are unhappy:
They might transfer, which hurts a college's ranking (which reduces a college's prestige, which usually reduces the number of applications it receives, which ultimately shrinks its applicant pool, which can lead to less flexibility to admit the students it wants and maybe needs to fit its budgetary constraints, etc).
They might drop out, which again hurts a college's ranking.
They might not donate as much after they graduate.
They won't encourage other people to come to the school — and that word of mouth is really important too.
They probably won't do as well academically, which again is bad for the school and its reputation.
They won't enhance the experience of everyone else there and will actually make it worse (because they will probably be complaining, and complainers bring everyone down and make people look at the negatives in their own lives and college experience — even just by empathizing with the complainer).
They probably won't join as many clubs — and that community involvement is crucial for everyone to enjoy their college experience.
If they hurt the experience of others, then there are compounding effects of others transferring, dropping out, not donating, etc.
So colleges REALLY care about fit. They only want students who will enjoy going to their school and value going there. Which is also why demonstrating gratitude is important — but I'm getting ahead of myself.
How can a student demonstrate fit?
There are two ways to demonstrate fit.
There are general attributes of good people. Good people are good fits at every school. So you want to communicate that you are a good person.
There are the specific attributes that make a person a good fit for a specific school. This takes research into the school to see what students are good fits for that particular school: maybe the school is religious, maybe it's very liberal, maybe it heavily emphasizes community service, etc.
Demonstrating General Fit
An admissions essay should never convey arrogance. That is poison for an application. No one wants to be around an arrogant person.
An admissions essay should show at least a few of the following:

Integrity
Gratitude
Humility
Care for others
Being a good and loyal friend
Serving others
Lifting up others and encouraging them
Bringing others together into a strong, supportive community

A key is showing the above — you can't just say that you have these characteristics. Showing that you walk the walk is much more compelling.
A good thing to show as well: That you try through your actions to "be the change you wish to see in the world." Now, that's a cliche, so I'm actually going to unpack that because usually when things are cliche we don't even think about them and we just think "that sounds nice." So let's stop and actually think about that cliche:

There are a lot of people who wax poetic about what is wrong with the world and what needs to get better. It's easy to point out problems: there are plenty of problems in the world. And a lot of people think they are actually doing something good by pointing out problems. They might be. Certainly we do need awareness of problems if we're going to fix them. But most people only talk about problems. What is much more beneficial? People who DO something about problems.

That is why "being the change you wish to see in the world" is actually quite profound. Doing something is rare and very, very valuable for the world and for a community — a college included. Be the person fixing problems. That's also how you become successful in life, impact the world, and make it better.
Demonstrating Specific Fit
As briefly mentioned before, this is going to take research on the specific school. Show how your values align with a school's values — specific details are helpful. See the bottom of this post for an admissions essay example demonstrating specific fit.
What genre of writing is a college admissions essay?
Ok, I hate this part.
Yes, college application essays are in the genre of personal narratives. But are they autobiographies or are they memoirs? What's the difference?
An autobiography is a history of a person's life.
A memoir is a story about a person's life.
There's a subtle yet profound difference between the two. Autobiographies have to be factually accurate. Memoirs do not.
The following makes me kind of sick to my stomach, but here goes.
As Vivian Gornick, the acclaimed memoirist writes in Truth in Personal Narrative: "Memoirs belong to the category of literature, not of journalism. It is a misunderstanding to read a memoir as though the writer owes the reader the same record of literal accuracy that is owed in newspaper reporting or historical narrative… What matters most to me [is] not the literalness of the situation, but the emotional truth of the story. What actually happened is only raw material; what matters is what the memoirist makes of what happened."
Alright, so, I didn't know when I was applying to college myself and writing my college application essays that the "emotional truth" was more important than the "literal truth."
But, that is the way that college essays are being written. Despite my personal reservations, I too need to conform to the genre.
There are some legitimately helpful aspects of this approach: if you're trying to relate something really complex that happened and you have a fixed word limit, then you can just cut out unneeded complexity to get the point across. You just simply don't have the room to fully explain everything.
But, this is a slippery slope, and there is a lot of grey area here — which is why this makes me so uncomfortable and why I actually think that college applications essays should be written as autobiographies, but I don't make the conventions of the genre.
At any rate, you have to use judgment. I would say: as much as possible, try to stick with the literal truth, and only deviate if telling the full complexity of the story diminishes the impact and/or would put a student over the word count.
Side note: For a fascinating example of the complexity surrounding the truthfulness of college admissions essays, you can read about the case of Mackenzie Fierceton here: "Truth, Lies, and… College Admissions."
Should I use ChatGPT?
Personally, I don't think that students should be able to use ChatGPT to help write college application essays — aren't the essays supposed to be authentic and reflect a student's own writing ability?
But, even heads of enrollment for state universities encourage students to hire admissions essay editors that go beyond just fixing spelling and grammar, so if students are being encouraged to hire admissions essay editors, then using a free essay editor (ChatGPT) is no worse — and it is also at least then equally available to all students.
There are two primary ways to use ChatGPT for essays:
Input what you want to be included in your rough draft and have ChatGPT write a rough draft for you.
Have it edit your rough draft.
ChatGPT can write an essay
Hopefully colleges will figure out a way to verify essays: either by having students be remotely proctored while writing the essays, comparing the quality of application essays to an authenticated essay that the student actually wrote (like the optional essay offered by the ACT), or maybe just asking the owners of ChatGPT to refuse to write essays that appear to be for college applications (and ChatGPT already does block writing on many topics).
But, until then, students are already using this as a tool for writing at least their rough drafts — and these rough drafts are honestly better than what about 75% of high school students could write for their final drafts.
As is so often the case in life, the quality of an output depends on the quality of the input. So, if you type in a very general prompt "Write a 500 word essay on why I want to attend Tulane," then you will get a very generic essay.
If, however, you put in tons of personal details, then you will get a much higher quality essay out and it will be personalized to you. For example: "Write a 500 word essay about why I want to attend Tulane and include how I almost drowned when I was 10 years old, how a paramedic brought me back to life, how this made me see dramatically more deeply how life is a gift, and how this made me want to become an emergency room doctor to help people." That will get you a much more personalized essay. And, you can basically tell it to do anything you want: "Include a joke," "revise the second paragraph to make it demonstrate more empathy," etc. It still won't write an amazing essay. The technology isn't there — yet. But, it will write an essay that has a good structure, is grammatically correct, and includes all the relevant details that you want. For the selective and especially highly selective schools, though, these essays are still not good enough to give you an edge.
ChatGPT can edit an essay
A better and more authentic use case for ChatGPT is to have it edit your essay. Just input "write this better:" and then copy and paste your essay in. If you're an amazing writer, it will make your essay worse. For most students, however, it will substantially improve the quality of their essay: at a minimum, the essay will be entirely grammatically correct and will likely be clearer and more concise.
Demo of ChatGPT
Concluding Thoughts on College Application Essays
College essays are a vital part of the admissions process that gives applicants an opportunity to showcase their perseverance, compassion, integrity, drive, and other personal characteristics. Admissions officers are looking for not only academic but also emotional intelligence in applicants — both are necessary for making a positive impact on the world. But how can admissions officers know if the content is true and the author is the student? Currently, they can't, but hopefully there will be a solution soon that protects the integrity of the college essay process and allows students with both personal and academic excellence to shine.
In the meantime, however, students (especially those applying to highly selective colleges) still need essays that are better (and less formulaic) than what ChatGPT can write. Here is an example of an essay that I really like about why a student wants to attend Cornell: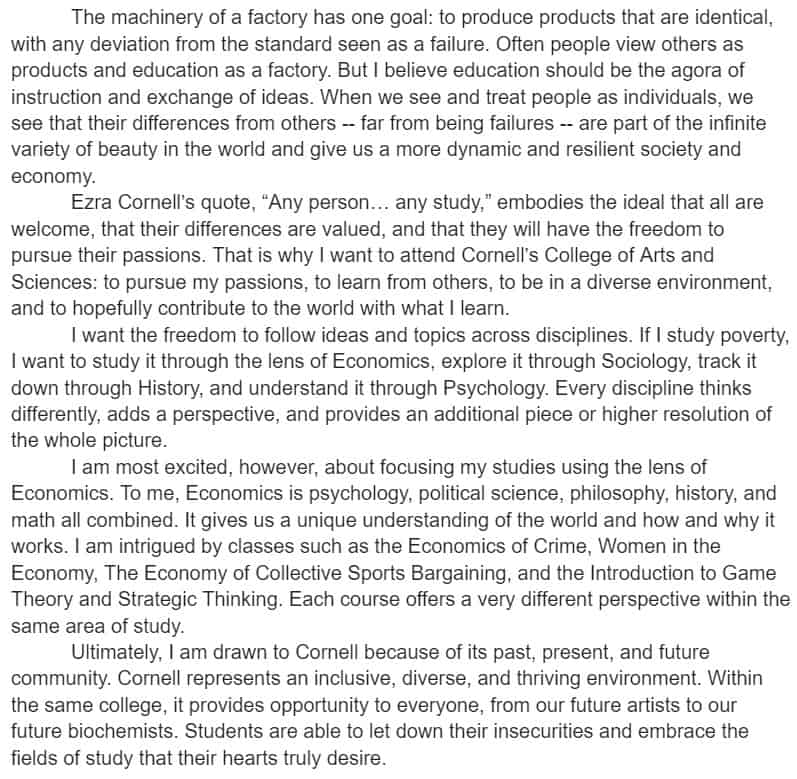 I ran it through ChatGPT just to see what AI would do with it, and it made it worse. So, for now, good writers can still write better admissions essays that have more nuance and sophistication than ChatGPT can conjure up.
But, with or without ChatGPT, students still need to tell their story as effectively as possible and to highlight the personal characteristics that make them a good match for any school, and particularly for their top choice schools. Those who can do so most effectively will gain an edge in the admissions process.